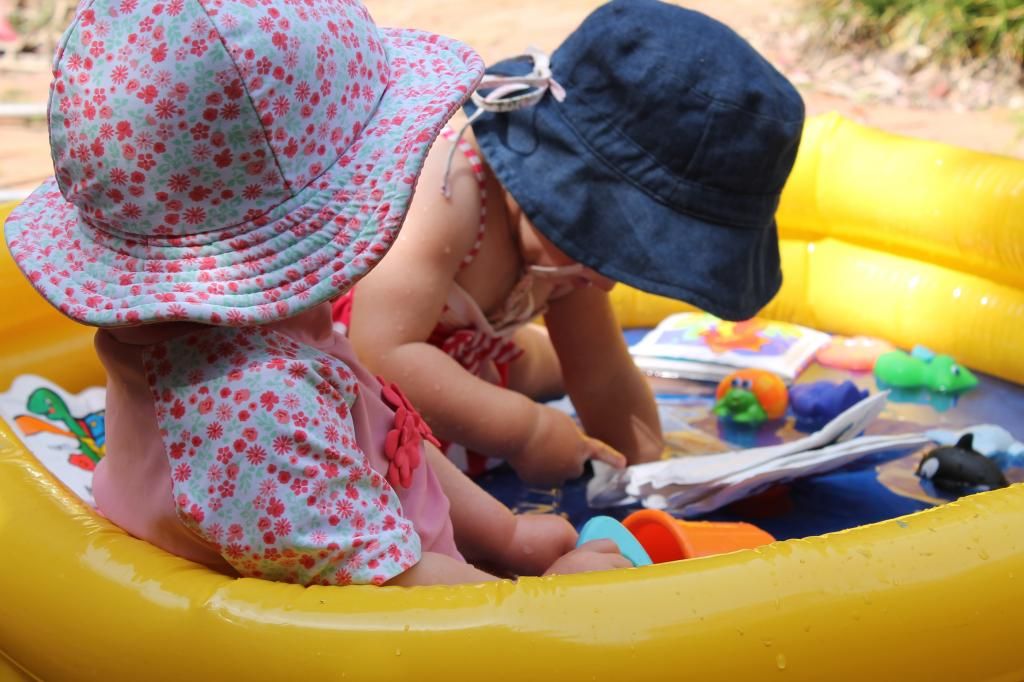 We have been taking it pretty easy around these parts the past couple of weeks. With the new house almost all unpacked now (I can't bring myself to sort those last few boxes stacked in the corner, they can wait), we've been making the most of quiet days close to home, exploring the area and enjoying the novelty of fresh surroundings.
With the weather finally starting to warm up, it's been lovely to laze about in the sunshine, delighting in simple rituals like watering the pot plants, or even hanging the washing on the line. Tilly has become quite the little helper, easily excited by the task of handing me the pegs or gathering up the piles of swept leaves. Being outside pottering in the garden is a whole new World of games for her, and I'm loving sitting back and observing her discover things for the first time. Visiting parrots are welcomed with squeals of delight, and nothing sparks her curiosity more than a trail of ants going about their business across the courtyard.
Water has also become a source of great happiness this past week - whether from the muddy waters of a freshly drenched flower pot, the dog's water bowl she will just not stay away from(!), or a playful paddle with her
bestie
. Think we will have to invest in a little pool of her own, as these two had a blast splashing about this morning - the perfect distraction when teething woes set in.
This little pair have really grown quite fond of each other - Saskia always greeted with a hilarious and exuberant 'fist pump', a reaction so far reserved only for her. Play dates with her little pal are often the highlight of our week - seeing the constant changes in how these two interact is so fascinating, as they master new tricks, continually learning from each other. They chatter animatedly, share toys openly (for the most part!) and play follow-the-leader around and around and around...While Tilly hasn't quite mastered walking on her own yet, I am bracing myself for when she does - these two will be unstoppable on two legs. They can be very stealthy when they want to, sudden quietness always a sign they have succeeded in reaching the forbidden stairwell or tempting power points. As a Team they are quite the crafty pair!
As Tils becomes more mobile each day, I am dreaming of a fun-filled Summer ahead. Picnics in the park, her first dip in the ocean perhaps, and evening strolls round our neighbourhood enjoying those extra precious hours of sunlight.. It's set to be a beauty, I can't wait.